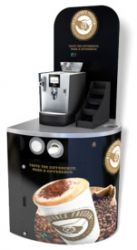 Vending Solutions
StaintonWard is an independent supplier of drinks, snacks and food machines with a team dedicated to equipment and service support. We are based in the Humber region and have strong, established links to the very best vending equipment manufacturers.
Our independence allows us to source equipment that best fits your requirement and meet specific requests. Our experience, knowledge and excellent supplier relationships allow us to support our customers better than most and means we can maintain and repair most makes of machine.
We pride ourselves on delivering the best coffee, tea and chocolate from our vendors and we apply the same passion to our chilled snack and cold drinks dispensers.